ABOUT THE ROOMS:
Kitchen Studio (2/2) one room, with a sofa bed as the only sleeping accommodation. Full Kitchen.
Our kitchen studio (2/2) is a one room unit, with a sofa bed as the only sleeping accommodation. The kitchen studio offers a full kitchen stocked with dishes, pots, pans and cooking utensils. All kitchen studios have hot tubs on the balconies. (this unit type is not offered through Interval International as a stand alone unit)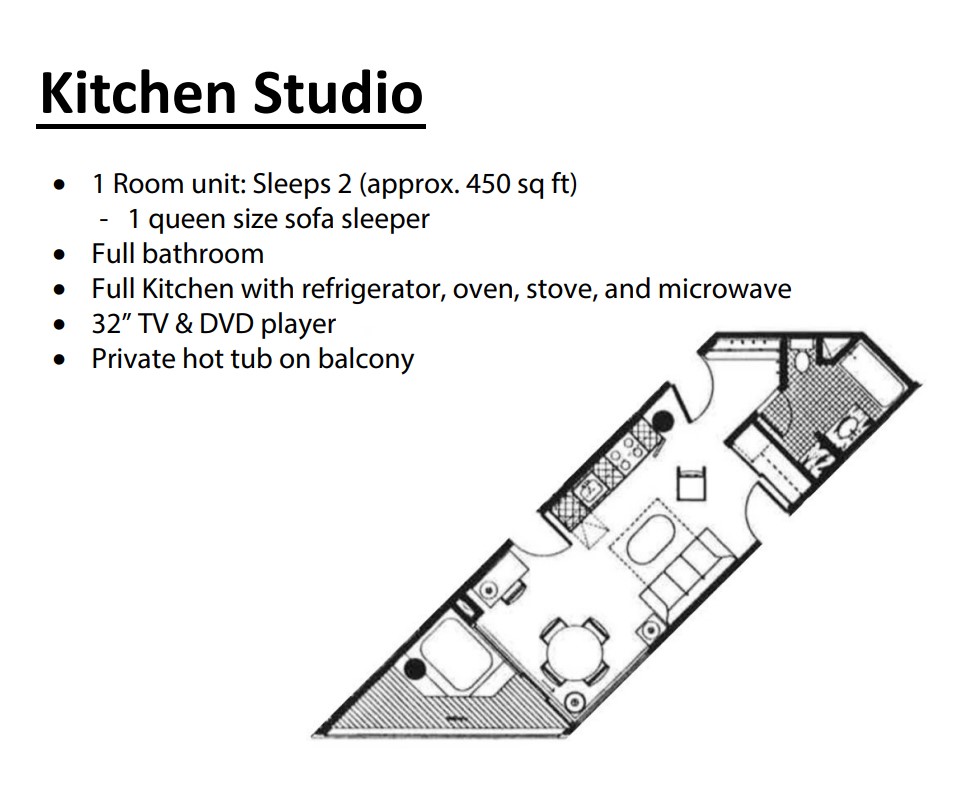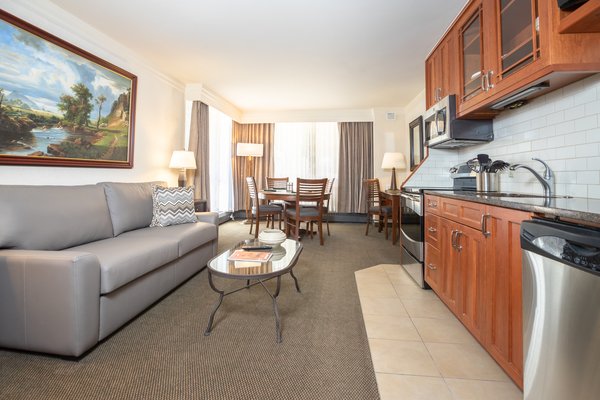 Bedroom Studio (4/2) one room with a king bed, queen size sofa sleeper and wet bar area.
Our bedroom studio (4/2) is a one room unit, with a king bed, queen size sofa sleeper and wet bar area that includes a small refrigerator, a microwave, plates, bowls, cutlery, glasses and sink. The room includes a balcony.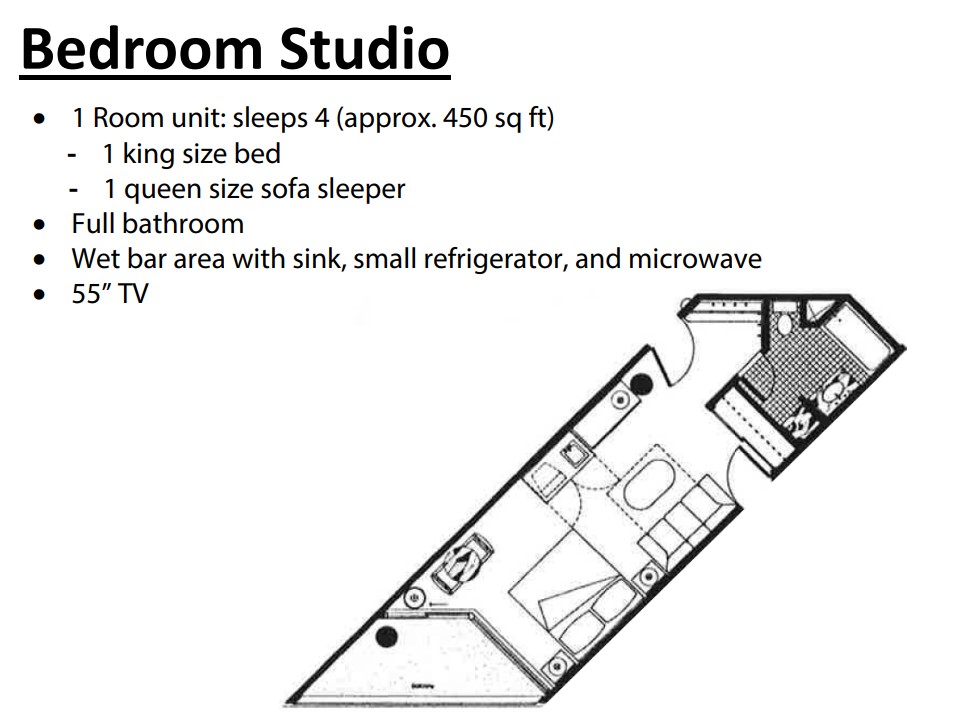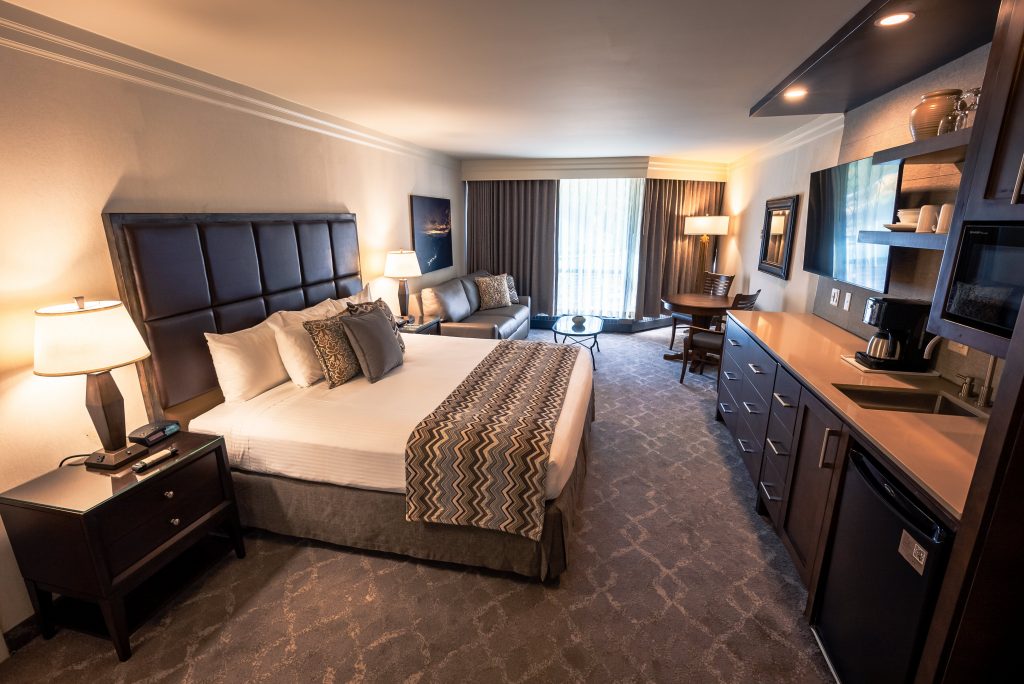 One Bedroom Condo (6/4) two adjoining rooms OR Two Bedroom Condo (8/6) three adjoining rooms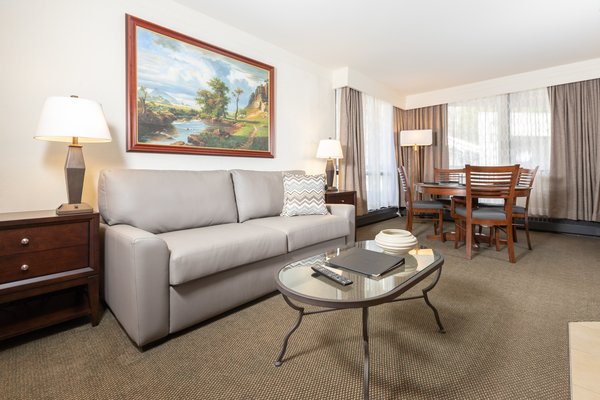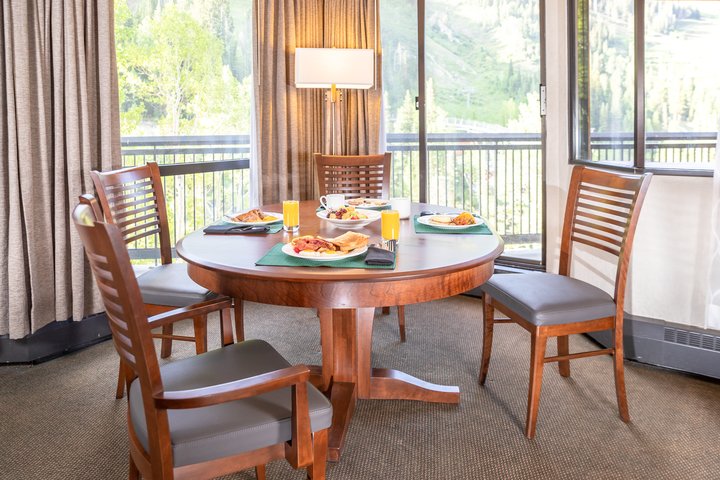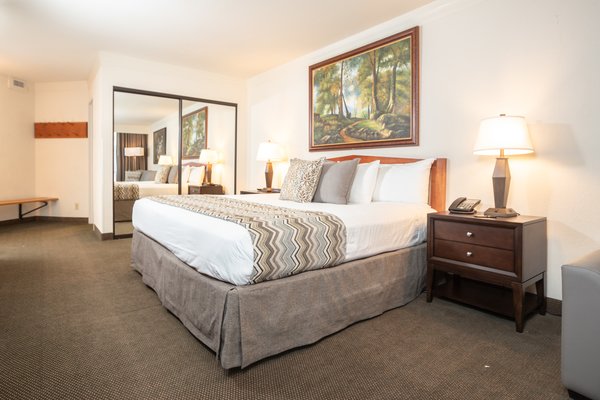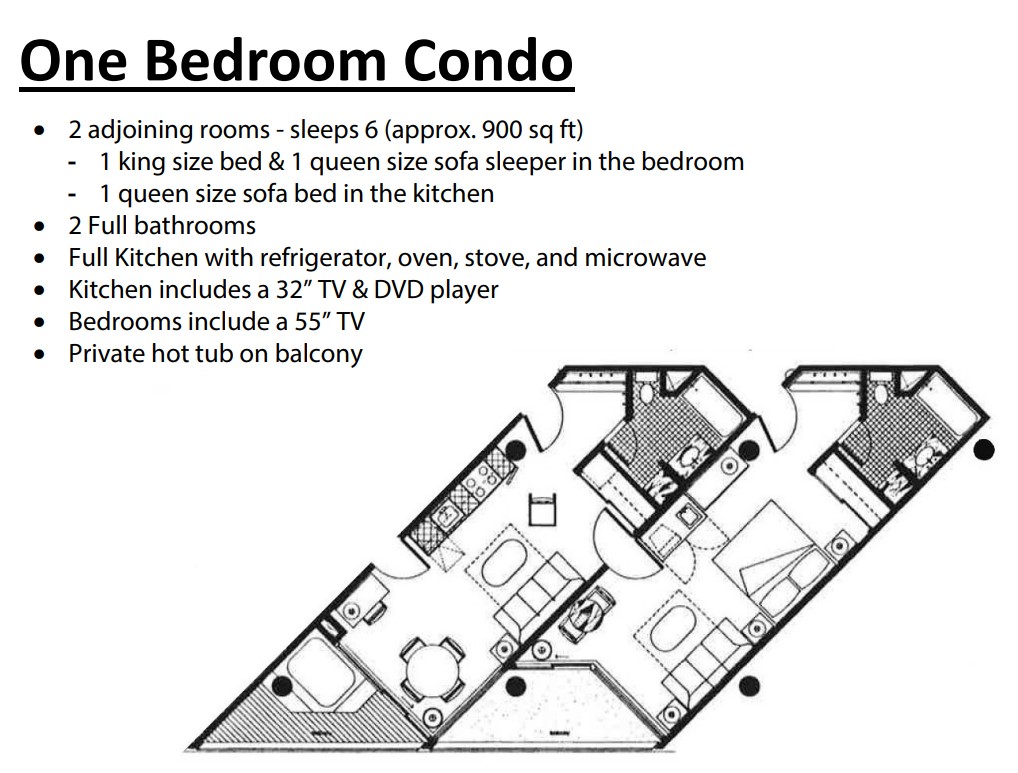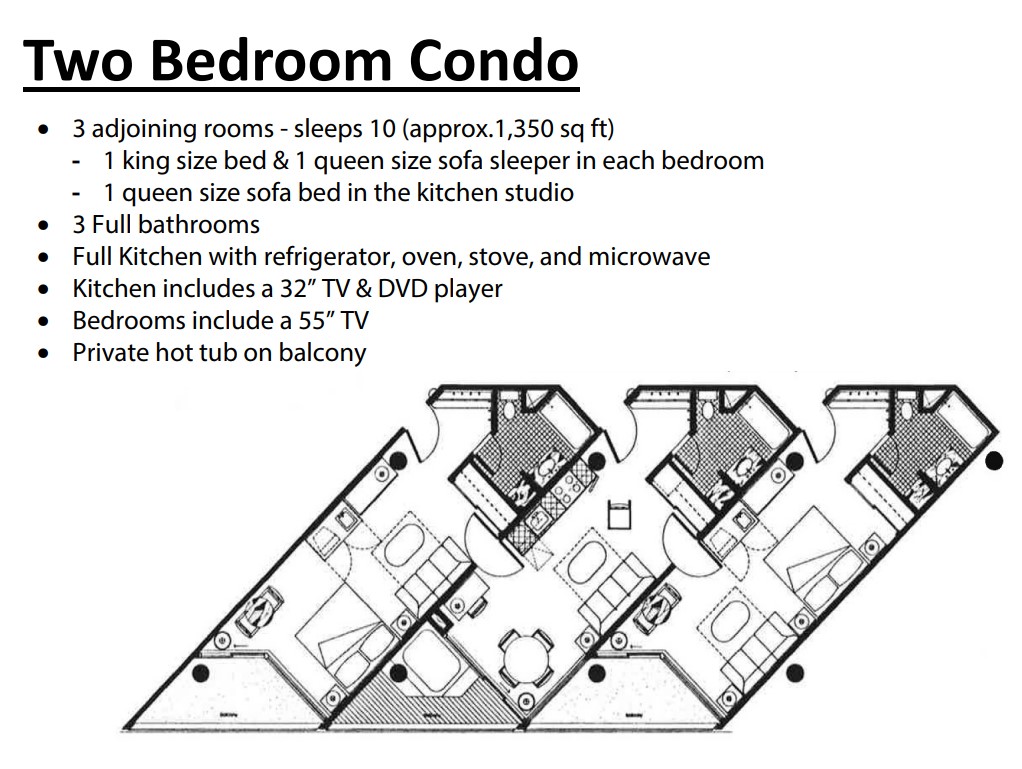 The Cliff Club units are a triple lock off design. These can be booked as a single room studio (kitchen or bedroom), as a one bedroom condo (a kitchen unit and one adjoining bedroom) or as a two bedroom condo (a kitchen unit with two adjoining bedrooms).
PLEASE BE AWARE THAT…
As is typical with resorts at 8000 ft. elevation we do not have air conditioning. All rooms do have a fan and a balcony.
Room assignments are set in advance and cannot be moved at check in. Please contact us prior to arrival for any special requests such as room location, early check in or to see if an accessible room is available. We will make every effort to accommodate requests, however they cannot be guaranteed.
The Cliff Club is located in Little Cottonwood Canyon which is a watershed area. No pets are allowed other than service animals. Please notify us in advance if you will be bringing a service animal.
Smoking is not allowed in the rooms.
RESERVATION CONFIRMATION
In an effort to avoid an unpleasant surprise upon arrival, please verify that your room type is accurate. If you feel the booking is incorrect please contact your exchange company to make adjustments to your booking.
In addition to the confirmation sent by your exchange company, Owner Services will send a confirmation to our exchange guest with email addresses on file. If you do not have an email on file with your booking company and would like to submit one to the Cliff Club click here.
CHECK-IN & CHECK-OUT
Our Front Desk is staffed 24 hours. Check-in time begins at 4 pm. However, rooms are not guaranteed until 6 pm. Early check-ins may be requested but cannot be guaranteed. We are happy to store your items at our bell desk, so you can enjoy the resort while your room is prepared. We can also provide early access to the pool upon request.
Please contact Owner Services 2 weeks prior to the arrival with special requests.
A photo ID matching the reservation name listed on your confirmation and deposit are required for occupancy.
The deposit can be presented in the form of a credit card or cash. If you elect to leave a cash deposit, $100 per night will be required. Registered guests must be at least 21 years of age.
UPGRADE YOUR ACCOMMODATIONS
Additional rooms and upgrades may be available directly through The Cliff Club. For information on rates and availability please contact Owner Services at 801-933-2234 or by email at: cliffclubservices@snowbird.com.
PLEASE NOTE: To receive free upgrades that are part of your exchange membership, you must contact your exchange company directly.
WHILE YOU ARE HERE
If you have booked a full week stay, a mid-week cleaning is provided on the 3rd day of your stay.
Fri-Fri stays will have a Monday cleaning and Sat-Sat stays will have it on Tuesday. Unfortunately, we are not able to change cleaning days. Additional towels, sheets, toiletries and trash pickup are available upon request.
Other items available upon request such as cribs, high chairs, and kitchen items are typically in supply but can not be guaranteed. We are happy to make note of requests in advance of your arrival.
RCI POINTS GUESTS: Reservations of 4 nights or less do not receive a mid-week cleaning.
When booking a stay of less than 7 nights there is a $40 cleaning fee due to additional checkout cleaning from the split week. This $40 will post on the bill and can be paid at checkout.
TRANSPORTATION – PARKING – SHIPPING
Ground Transportation: Canyon Transportation provides discounts for our Owner Exchange guests when booked online through The Cliff Club.
If you are driving to the resort please keep in mind that winter road conditions and restrictions may require 4-wheel drive or chains. Directions
Parking: Self-Parking is free for our Cliff Club guests. Valet parking is $20 per day, per car and will post on your incidentals account.
Shipping: All incoming packages are charged $9 handling fee. There is no fee for outgoing packages