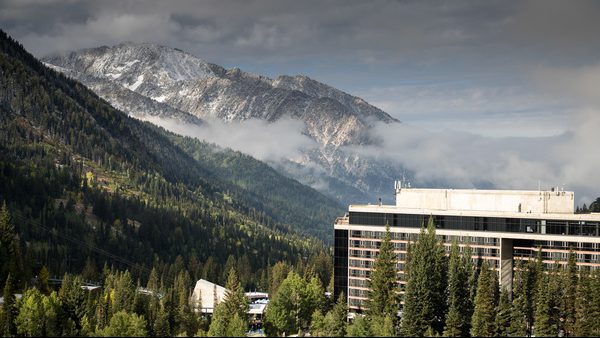 WELCOME
TO THE CLIFF CLUB
GREETINGS TO OUR CLIFF CLUB OWNERS & EXCHANGE GUESTS
We hope that your stay with us will exceed all of your expectations. Please allow us to take a moment to extend to you the warmest of welcomes.
How to Contact Us
Frequently used extensions are set on your phones speed dial buttons for your convenience.
The Snowbird operator can transfer you to any extension at the resort. We suggest you save our direct line in your cell phone for quick access when your out and about: 801-933-2222 (Snowbird Operator).
Our Owner Services Representatives are here to help and appreciate your feedback. Their contact information is In House ext. #5683 or Outside line 801-933-2234, email is cliffclubservices@snowbird.com.
Office Hours:
Tuesday to Friday 9 am – 5 pm
Saturday 9 am – 1 pm
Closed on Sunday, Monday and Holidays.
For immediate assistance please contact the Front Desk at ext. 5000. They are available 24 hours 7 days a week.
Please be aware that the Front Desk will never ask for credit card information over the phone.
Guest Services
Our Guest Services Desk is located across from registration on Level "L". They can be reached at ext. 5010 or outside line 801-933-2159. Our concierge have a wealth of information about Snowbird activities and dinning options, as well as the Salt Lake area.
Stop by and use the business center computers, or see what board games, DVD and books are available to borrow.
Valet & Shipping Packages
Please be aware that:
· Valet Parking is $20 per day per car.
· Any packages received are charged a $9 handling fee.
Guest Directory
BELL DESK 5034
THE AERIE 5520
FRONT DESK 5000
THE ATRIUM 5700
CONCIERGE 5010
TRAM CAR PIZZA 4076
HOUSEKEEPING 5037
STEAK PIT 4060
CLIFF CLUB 5683
FORKLIFT 4100
MAINTENANCE 5000
SEVENTY ONE 5160
PUBLIC SAFETY 5137
THE CLIFF SPA 5900
OPERATOR 0
GENERAL GRITTS 4035
WAKE-UP CALL 0
CLIFF SUNDRIES 5600
BAKED & BREWED 4066
ROOM TO ROOM:
· Cliff Lodge 5 +ROOM NUMBER
· Iron Blosam 1 +ROOM NUMBER
· The Lodge 3 +ROOM NUMBER
· The Inn 2 +ROOM NUMBER
Cliff Guest Wireless Internet
Complimentary high-speed wireless internet access is available to hotel guests throughout the building and in guest rooms. Look for the connect Cliff_Guest in guest rooms and Cliff_Public in common areas.
The Room
Only Kitchen units have DVD players.
The switch for the garbage disposal is the silver button to the right of the kitchen faucet.
There is a light above the sink area.
To use the DVD player use the TV remote to switch to aux Then use the DVD player remote to control your viewing.
Please be aware that Maintenance will require access to the room to service the hot tub during your stay.
If you need additional kitchen utensils and supplies, Housekeeping has items that can be loaned out on a first come first served basis as items are limited. Please call Housekeeping at ext. 5037.
Please be courteous of your neighbors and avoid loud noise in the room, halls and balcony areas. Avoid splashing in the hot tub as water may fall on guest below.
Accidents happen, please report any broken items so they can be replaced.
We are a non-smoking property. This includes balcony and pool areas. Smoking is permitted 25ft. from the building.
We don't like to do it, but additional fees may be applied if cleaning is excessive or repairs are required due to guest negligence.
The Facilities
The 3rd floor pool and game room on level L2 are open from 8am to 10pm. Children under 14 years old must be accompanied by an adult. Game equipment is available at the Concierge desk.
There is NO Lifeguard on duty at the pool
The Spa facility is an adult facility located on level 9. Guests must be 16 and older and ID is required. The use is complimentary up to the maximum occupancy of the room type. Any additional guest will pay a daily use fee.
Laundry and recycling facilities are located at the end of the hall next to the #02 rooms. The washers and dryers are free. Laundry soap can be purchased in the Cliff Sundries shop.
Complimentary wireless internet is available to hotel guests throughout the building and in guest rooms. Sign in as Cliff_Guest.
The Cliff Spa
· Spa access is limited to the total number of guest occupancy of your unit.
· You must have your white guest card issued at check in to access the Spa. Please remember to sign your cards. Please see the Front Desk if you need additional guest cards.
· The spa is for guest 16 and older
· Yoga Classes are now $10 per person and include spa access.
· A time slot reservation is not required if you have a treatment, or yoga class booked as these services include spa access.
· SPA CHECK-IN REMINDER:
Reservations are required for spa access, treatments and yoga classes.
Please reserve a time and fill out an online waiver in advance.
Housekeeping
Housekeeping ext. 5037. Office hours 8am to 4pm. After hours please contact the Front Desk at ext. 5000.
A full week reservation receives 1 mid-week cleaning. A full week is defined at 5 or more nights.
Reservations for 5 nights or more have cleaning on the 3rd day of the stay. For example:
Friday arrivals have Monday cleaning
Saturday arrivals have Tuesday cleaning
PLEASE NOTE: Cleaning days cannot be changed.
We will be happy to deliver additional sheets, towels or toiletries upon request any day of your stay. Trash pick up, and additional kitchen supplies are also available upon request.
RCI Points guest are charged a $40 checkout cleaning fee if the reservation is less than 7 nights.
Need something you don't see in the room? We have extra kitchen items such as blenders and crock pots. Cribs and highchairs are also available at no cost. Rollaway beds are however, $25 per night and are only allowed in the bedrooms.
Maintenance
Is something in the room not right? Please report any problems to the Cliff Club or Front Desk so we can have it resolved quickly.
If you would like to report a problem after you leave, please visit our Departure Feedback to write a comment.
Hot tubs
Hot tubs will be serviced on a regular basis. This requires access to the kitchen unit during your stay. Hot tubs are typically checked on your cleaning day, so please plan to provide us access to the room at that time.
Checkout
Cliff Club checkout time is 10:00 am.
Late checkout is typically not an option. The Bell Desk provides storage for guests who intend to remain at the resort after 10 am.
Please be aware that Housekeeping may knock on your door prior to 10 am. For your convenience a "Do Not Disturb" card is located on the inside of your entry door.
It's very helpful on checkout if you can:
· Load dirty dishes & turn the dishwasher on.
· Place all linen and towels in a central area.
· Consolidate all garbage into one location.
· Report items that need repair to the Front Desk.
· Double check all areas for personal items.
Cashless Payment
All points of sale have gone cashless including Snowbird restaurants, retail stores, lodging properties, the spa, activities, parking & valet. Snowbird is accepting credit, debit and mobile pay. Reverse ATMs are available at no charge and are located at Snowbird Center on Level 1 next to Wings and on Level 2 in the Snowbird Center lounge along with The Cliff Lodge lobby. Prepaid debit cards from the Reverse ATMs are accepted anywhere, not just Snowbird.
Altitude Tips & Tricks
Dry Air: Because of the extremely dry air at this altitude, many of our guests will have trouble sleeping and or breathing. Each room has a humidifier that can add moisture to the air in your room. We recommended that you drink two to three times more water for drastic changes in altitude.
Altitude Sickness: Snowbird's base elevation is 8,100`above sea level. Your breathing may be faster and deeper, especially when you exercise.
Acute Mountain Sickness (AMS): Symptoms can include feeling tired, headaches or nausea. These symptoms typically go away within two days. If you develop a cough, feel increased shortness of breath or if you feel there is fluid in your lungs, please contact medical assistance immediately. To minimize the effects of the altitude; reduce your intake of caffeine, alcohol and salty foods.
Attention Snowbird Guests
Many species of wildlife call Snowbird home. For your safety and for the well-being of these animals, please follow these simple guidelines during your stay.
Please Do Not Feed the Animals
In addition to the risk of bites to your hands or feet, feeding wildlife creates a dependency on humans that interferes with their instinctive hunting and gathering skills. In some situations, it contributes to increased aggressiveness. Ultimately, it endangers the survival of the animal.
Please Keep Your Distance & Report Dangerous Situations
While they may seem docile, forest animals are at heart wild and unpredictable. Moose in particular will charge if they feel threatened. Please keep your distance and simply enjoy the view. If you see animals near unsupervised children, or witness animals acting aggressively, please report it immediately to Snowbird Public Safety at 801-933-2137 or ext. 5137.